MOVIE REVIEW - RUROUNI KENSHIN: SAMURAI X
By:
G.P. MANALO
Starring:
Takeru Sato
Emi Takei
Teruyuki Kagawa
Rurouni Kenshin: Samurai X - Tells the story of a wanderer named, Himura Kenshin who was once called Hitkori Battosai (Battosai - The Man Killer), a feared warrior of the war. He meanwhile realized that he had enough of killing and moves on to wandering the lands, walking away from the men who wants to destroy him. But one day as he go through this small village, he runs into a woman named Kaoru who recognized him and he meanwhile found himself endangering her and the people around him when many found out about him as he gain new friends by his side and encounter old enemies.
Rurouni Kenshin is probably one of the most anticipated movies for me this year. Hence I finally watched it, Despite the fact that it was only exclusive to SM Cinemas i was still able to go out of my way and watch this movie and I have to say this movie exceeded all of my expectations. A little brief history about me and Samurai X, When i was a young kid i remember having 4 VHS tapes of old animes I think i can remember having Samurai X, Pokemon (1st Gen), Dragonball Z, and Voltes V. But Samurai X was probably the most forgettable one in my childhood. But years later (With a bit of an older perspective about anime) I was able to catch the Tagalog dubbed episodes in HeroTV and I was very interested and entertained by it and when i first heard last year that they are making this movie, I was very hyped about it (and surprisingly 90% of the population of Filipino anime fans did too) but i digress. Seeing the first trailer I fear that this movie will be very.... Convoluted. That is always my expectation going into some old cartoon/anime adaptation (some didn't but still ended up being horrendous). In the trailer they showed 4-5 different villains and this is in the span of many episode storylines. Did that happen? Not really, the movie felt linear to the fact that i was able to catch up with all the things going on in this movie.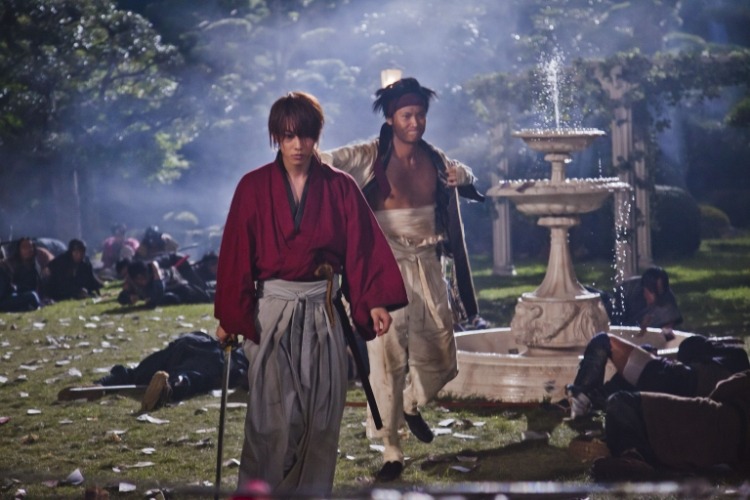 This movie has some tones here and there that were uniquely handled, Like most (maybe not the most) of the movies the reason why we see some dead or classic 70s, 80s, or 90s movies is because they thought it 's a good idea to bring them back in a REALISTIC,DARK and GRITTY tone while the other tone reminds me a lot of that old school Samurai Cinema. Both were handled surprisingly well as I'd like it to be.The Samurai X anime is famous for it's intense sword fights, despite the fact that sometimes it is a little anti-climactic (at some point of the anime) because of how overpowered the protagonist is but here there was one anti-climactic scene by the end of the movie. The action in this movie is well choreographed, Every fight scene is intense and beautiful (like how my friend described it). The choreography (thankfully) retires from one slash exploding group of men (like in the anime) moves and goes through naturally choreographed sword fights. The action of this movie is intense as it is very well-shot it is not that shitty shaky-cam stunt that you would see in action movies nowadays. Sweeping shots of Kenshin going through an army of warriors, Swords (and a minigun) pointing at you, Japanese Landscape, were just amazing to look at.
In the writing/directing department I do wish I speak Japanese (fully) to appreciate the writing of this movie but this movie was Subbed in English and by the dialogue that i did read was not bad, sounded cheesy at some point (Hopefully it doesn't in Japanese) but solid writing. The director and writer definitely felt like they are familiar with the source material, They were very loyal to it and they were able to deliver a very well-adapted anime. And the last thing to talk about is the acting, Like i said I do wish I speak/understand Japanese fully to judge this department but the acting in this movie are either in the scale of natural, solid or over the top (In a good way). I can say that everyone did a good job bringing the characters to life in this live action movie. Sato sporting the charm of Kenshin is fun to watch along with Emi Takei's Kaoru. Also fun to watch, Teruyuki Sagawa. I can tell that he had so much fun playing the role of a flamboyant and ruthless businessman, Takeda and to me he is pretty much the one who stood out in this film. But last but not the least (my favorite character in the anime) Sagara Sanosuke being played by Munteka Aoki is also fun to watch as he brings out a performance of an overly-confident and prideful warrior who carries a big-ass sword.
In the end, Rurouni Kenshin is a miracle to anime fans (er... Otakus), It's well adapted, The filmmakers were able to deliver a well crafted anime adaptation to such a beloved series. The movie may be long (it being a 2 1/2 hours long yet almost close to being 3 hours long) but with all of the entertaining action you will find yourself not looking at your glow in the dark watch and enjoying the scenes on the screen. This is probably the best anime adaptation to date. Somethings may have been anti-climatically rushed at some point of the movie that was the only gripe i have. The movie does look like it is open for a sequel and if so... Hopefully it is either as good or better than this one. Fans will be very pleased with this movie, while non-fans might find this as a very interesting piece of filmmaking.
THE GOOD:

+WELL SHOT AND CHOREOGRAPHED ACTION
+CINEMATOGRAPHY
+THE BEST ANIME ADAPTATION WE HAVE SO FAR
+GOOD PERFORMANCES
THE BAD:
-ANTI CLIMACTIC EXITS (AT SOME POINT)
-RUSHED PARTS
MY RATING:
4.9/5 - SO CLOSE! (FOR THE WIN!)

DID YOU ALSO WATCH THIS MOVIE? WHAT DO YOU THINK OF IT, COMMENT BELOW! LET ME KNOW!